Details
The Cintiq 12WX was a longstanding, small Creative Pen Display. It offered users a somewhat portable on-screen experience. Somewhat, because a computer is still required, but also the quantity of cabling for the Cintiq 12WX made it somewhat cumbersome for portability. It was first released in 2007, toward the end of the 1st generation Cintiq 21UX, and was in production until 2013 when it was replaced by the Cintiq 13HD. It utilized the same pen technology as Intuos3 tablets (ZP) which provided 1024 levels of pressure. One difference is that it included a 'Special Edition' Grip Pen, which was a slightly darker variant than the one included with other Intuos3 tech-based products.
Successor
The Cintiq 12WX was succeeded by the Cintiq 13HD which was produced from 2013 to 2016. In 2017 the 'small' Professional Pen Display was updated again with the which is still the professional option for this form-factor as of May 2020. More recently released is the Wacom One, which is not a direct replacement as it lacks the professional features a Cintiq 12WX user would have been looking for, but it does offer a less-expensive option at the same general form-factor.
Product Images
Specifications
Logitstical Information
Dimensions
16 x 10.5 x 0.7" (40.6 x 26.7 x 1.8cm)
Weight
4.4 lb (2.2 kg)
Stand Adjustability
Flat, or slightly angled with built-in kick stand
VESA Compatibility
VESA MIS-D 75, 4 holes
PC and Mac Connection
VGA or DVI and USB 2.0
Supported Operating Systems
Windows and Mac
Display
Type
TFT active-matrix LCD
Screen size (diagonal)
12.1"
Resolution
WXGA (1280 x 800)
Color Performance
16.77 million colors
Aspect Ratio
16:10
Viewing Angle (horizontal/vertical)
Contrast Ratio
Brightness
Response Rate
Active Area
10.3 x 6.4"
Pixel Pitch
0.204 x 0.204mm
Cover Plate
Pen & Advanced Control
Multi-touch
No
Pen
ZP501ESE
Pressure Levels
1024
Type
Grip Pen (Special Edition)
Switches
2 side-switches
Tilt Recognition
+- 60
Nibs
Pen Case
No
Pen Stand
Yes
Grip Area
Technology
Patented electromagnetic resonance method
Resolution
5080 lpi
ExpressKeys
10 (5 on each side)
Touch Strip
2 (2 on each side)
Radial Menu
Yes
Precision Mode
Yes
Display Toggle
Yes
Connections
Cables Included
DVI-D to DVI-D
DVI-I to VGA
USB 2.0
PC and Mac Connection
USB 2.0
Display Connection
DVI or VGA
Peripheral Connections
None
Power and Operating Requirements
Power Supply Input
100-240v AC, 50-60Hz
Power Supply Output
Power Consumption
Accessories
Original Accessories
Item
Cintiq 12WX
Pen
Special Edition Grip Pen (ZP501ESE)
Nibs
Standard Nibs (PSIA021)
Stroke Nibs (PSIA042)
Felt Nibs (PSIA043)
Video Cables
DVI-I to VGA (STJA259)
DVI (STJA260)
USB Cable
USB (STJA258)
AC Adapter
POWA102
Power Cable
Breakout Box
PLB-03
Misc
Pen Stand (PSTA034)
Nib puller (FUZA131)
Driver CD
Acecssory set of 4 rubber feet (PASA063)
Compatible Accessories
Item
Cintiq 12WX
Nibs (for included pen)

Standard Legacy

Standard Black Nibs (ACK20001)
Stroke Nibs (ACK20002)
Felt Nibs (ACK20003)
Flex Nibs (ACK20004)

Pens

Intuos3 (ZP) Pens

Grip Pen (ZP501E)
Art Marker (ZP600)
Classic Pen (ZP300E)
Airbrush Pen (ZP400E)

Misc
Sales Details
Pricing
WTC
When new sold at $999.95.
Warranty
WTC
When new, carried a 2 year warranty from the date of purchase (standard Pro Display warranty).
Customer Support Information
Driver
OS
Cintiq 12WX
Windows
Still Supported by (as of April, 2020)
This driver works with 7, 8.1 and 10.
XP and Vista users may be able to use 6.3.15-3.
Mac
Still Supported by (as of April, 2020)
This driver works with 10.12-10.15.
Users of earlier builds may be able to use a .
Troubleshooting
Breakout Box PLB-03
The Cintiq 12WX used a breakout box for its connectivity. There was a proprietary cable (not user-replaceable) going from the display to the box. This box then had connections for the power of the Cintiq, as well as a DVI-I connection and USB connection to run to the host computer.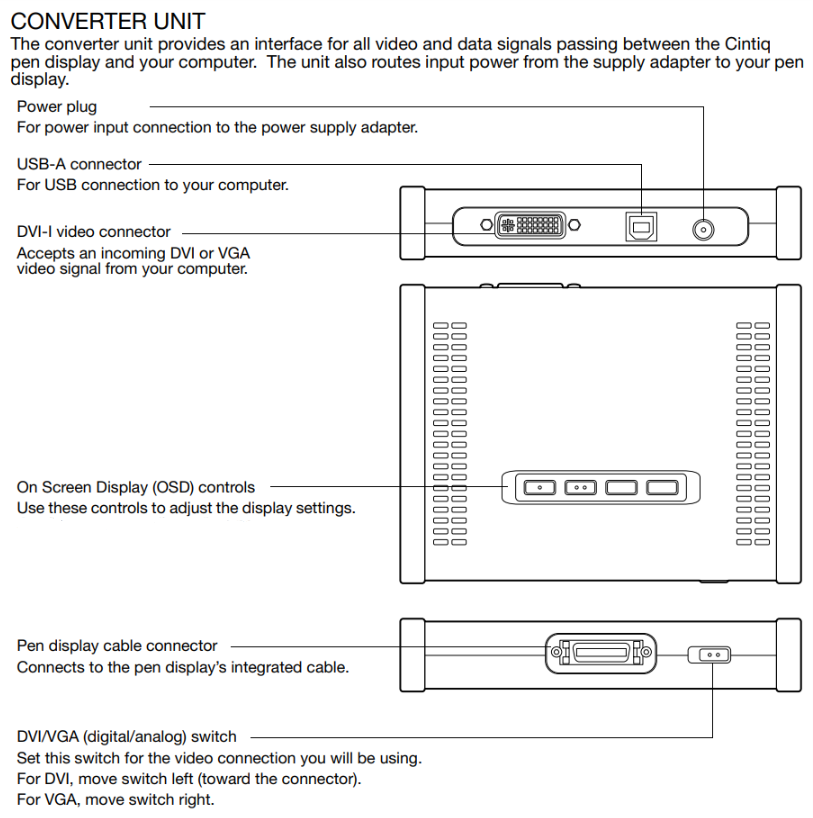 DVI-I Connection
The converter box had a DVI-I connection, similar to the DVI-I cabling provided for the Cintiq 21UX. The included DVI cable was DVI-D, which meant it could not directly be adapted to VGA, only digital connections. A DVI-I to VGA cable was also included, that allows for connection to a VGA source.
DVI-I vs all others
The Cintiq 12WX has a switch on the breakout box (near the on-screen controls) which tells the display if we are using a Digital (DVI) or Analog (VGA) connection. In most situations it seems the position of this switch doesn't matter. In some however it does. If a customer is seeing a 'no display' issue it can be helpful to try switching this to the opposite position and then power-cycling the display.
Status light
The Cintiq 12WX has a status light near the power button on the center-top of the display. This light should illuminate whenever a pen is making contact with the display. This is a hardware light, meaning the status of the driver often doesn't matter. It should still illuminate when the tablet hardware sees a compatible pen in-contact with the display.
Related Links