Product Description
Wacom One 13" Pen Display (DTC-133 - DTC133)
The Wacom One creative pen display is the entry-level pen solution from Wacom. Whether for drawing, editing images, or digital annotation – this is a 'digital starter kit' for analogue pen users and digital pen upgraders to get going straight away.
Customers can use the Wacom One as an extension or mirror of their screen, not only from Mac and Windows PC but also Android* smartphones to enhance their entertainment and productivity applications.
Customers can choose from a variety of compatible pens from reputable analogue pen manufacturers
Sections in this Article
Product Images
Specifications
Product Specifications
Product Information
Product type
Creative Pen Display
Global Product Code
DTC133
Product Dimensions (L x W x H)
250 x 357 x 14.6 mm
8.9 x 14.1 x 0.6 in
Product Weight
1.0 kg
2.2 lbs
Stand Adjustability
19 degrees using built-in, fold-out legs
Power Consumption
Power ON mode (MAX): less than 10 W
Power OFF mode: 0.5 W or lower
Power sleep mode: 0.5 W or lower
Power Supply Input
5 VDC, 2A
Product Color
Flint White
Storage Temperature and Humidity
Temperature: -10 to 60 deg. C
Humidity: 30 to 90% RH (non-condensing) (Maximum storage humidity is 90% at a temperature of 45 deg. C, and maximum storage temperature is 60 deg. C at a humidity of 30%)
Operating Temperature and Humidity
Temperature: 5 to 40 deg. C
Humidity: 30 to 80% RH (non-condensing)
Warranty
1 Year (except WEG where it is 2 years)
Country of Origin
China or Taiwan
Pen Display Technology
Screen Size (measured diagonally)
13.3 inch
Display Resolution
1920 x 1080 pixels
Display Refresh Rate
60Hz
Display Technology
AHVA (Advanced Hyper-Viewing Angle)
Surface
Anti-Glare Film
Color Depth
8-bit (16.7 million colors)
Aspect Ratio
16:9
Viewing Angle
170 deg. (85/85)H / 170 deg. (85/85)V (typ)
Contrast Ratio
1000:1 (typ)
White luminance uniformity
80% (typ)
Pixel pitch
0.1533(H)X
0.1533 (V) mm
Brightness
200 cd/m2 (typ)
Response Time
26m sec (typ)
Active Area
294 x 166 mm
11.6 x 6.5 in
Color Gamut Coverage Ratio
NTSC 72% (CIE1931) (typ)
Pen Type
Pressure-sensitive, cordless, battery-free, single SideSwitch
Pen Technology
EMR (Electromagnetic Resonance)
Pen Name
Wacom One Pen
Pen Pressure Levels
4096
Supported pen tilt angle
60 degrees
Pen resolution
0.01mm/point
(2540 lpi)
Compatibility & Connectivity
Hardware Requirements
HDMI port and standard USB-A port
I/O Ports
1 x Display Connector
Input Video Connector
Display connector
Input Video Signal
HDMI
System Requirements
Windows 7 & later
Mac OS 10.13 & later
Accessories
| Wacom One Tablet | |
| --- | --- |
| Wacom One Pen | CP91300B2Z 4,048 levels of pressure, single SideSwitch |
| Wacom One Pen Nibs | ACK24501Z |
| Wacom One X-Shape Cable (180 cm long) | ACK44506Z |
| Wacom One Power Adapter (WTC / WCL / WTW / WSP) | ACK44514A |
| Wacom One Power Adapter (WEG / WSP / WHK) | ACK44514B |
| Wacom One Power Adapter (WAU / WKR / WIN) | ACK44514C |
| Wacom One Power Adapter (WCC) | ACK44514F |
| Wacom One - Optional Accessories | |
| --- | --- |
| ExpressKey®™ Remote | ACK411050 |
| Wacom Wireless Keyboard | WKT400 |
| Wacom Soft Case M | ACK52701 |
Whats in the Box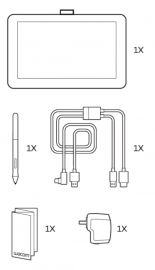 Wacom One 13" Pen display (DTC133)
Wacom One Pen (CP91300B2Z)
3 Replacement nibs (under the right leg of the Display)
Wacom One X-Shape cable (ACK44506Z)
AC adaptor (Input: 100 to 240 VAC, 50/60Hz / Output: 5 VDC, 2A) (ACK44514)
Quick start guide
Warranty card (Japan, AP, China only)
Regulation sheet
Bundled Software
Check this promo site in case there have been changes: https://www.wacom.com/promos/wacom-one
Adobe Premiere Rush or Creative Cloud Photography plan
time-limited licenses, check for details
Adobe Premiere Rush is optimized for editing videos across all platforms.
Take pro-quality video on a mobile device with built-in camera functionality.
Edit with simple tools for audio, motion graphics, and more, and share from the app to social channels like YouTube, Facebook, and Instagram.
It's easy to use across all devices/platforms incl. automatic synchronisation for videos up to 20 min.

Adobe Premiere Rush or Creative Cloud Photography plan includes:
Photoshop Lightroom
Adobe Photoshop Lightroom Classic
Adobe Photoshop
Adobe Photoshop Express
Adobe Photoshop Camera
Adobe Fresco
See Adobe Fresco article for description and offer details



Optimized for comic artists, manga artists & animatorsClip Studio Paint is a page-based, layered drawing program, with support for bitmap and vector art, text, imported 3D models, and frame-by-frame animation. Also it includes multiple page management tools and features for full-length professional 2D animation.It perfectly complements the Wacom One Creative Pen Display and comes with drawing tools which emulate natural media such as pencils, ink pens, and brushes, as well as patterns and decorations. It is optimized for creating Manga & Comics featuring tools for creating panel layouts, perspective rulers, sketching, inking, applying tones and textures, colouring, and creating word balloons and captions.
6 months' license

After three months, the customer must register for a monthly license plan with the software developer, Celsys. Celsys will then grant another three months free of charge.
Six expressive tools together with Wacom ́WILL™ universal ink give you an amazing natural ink experience and turns your Wacom One into a paper notebook.Wacom's universal ink technology WILL™ gives you the best drawing and writing experience available and lets you easily exchange your notebooks between Bamboo Paper on other mobile platforms without any loss of quality or ability to edit. Pro-pack with extra tools, brushes and full access to all notebooks included (Only valid for Windows version)


Since the 1st of December 2020 a new bundle offer is available for the Wacom One and the . It introduces 5 softwares that will be part of the customer software selection.
At launch, all these offers were for 3 months' free premium access. Check for updates.
Collaboard
This web-based application focuses on educational whiteboard collaboration and combines the following benefits:
Endless canvas with import of pics, docs, ppt, excel, pdf, videos
Manages groups, classes and access rights
Presentation and facilitator features for teachers
Offers templates, clipart and shape import
Secure Data Center in Switzerland, Europe (Azure) or on-premises
Availability of the offer : WTC, WEG, WCL, WAP - Exclude -WKR and WCN
Explain everything
Explain Everything is a recordable digital whiteboard for real-time collaboration and video recording that works on Android, iOS, Chromebook and web browser. Features include:
Sharing video lessons, collaboration, or live cast
Collaboration or/and group assignments, remote learning
Infinite canvas for any kind of media
Predefined or custom templates & clipart/doodles
Easy integration and sharing to videoconferencing and cloud services
Availability of the offer : Global
Kamiapp
Kami, Japanese for paper, is an educational PDF editor for teaching and virtual classrooms with the following features:
Distribute assignments with audio, text and video comments
Receive assignments, mark and distribute them
Ideal for maths, typed text, signatures, speech to text
Integrates with Google Classroom, Schoology, Canvas
With Chrome extension for PDF and document annotation
Availability of the offer : World Wide except - WTW, WCL, WKR, WCN - other countries like, Vietnam, Thailand, Hong Kong, etc... are okay
Limnu
Limnu is an online whiteboard with integrated video conferencing that enables collaboration in real time from any device. It combines the following functionalities:
Smooth drawing surface with realistic markers
Annotate on top of imported documents & images
Multi-user presence & navigation
Collaborative or solo drawing modes
Leading & navigational pin function
Board security and admin controls
Availability of the offer : World wide except - WTW and WCN
Pear Deck
Pear Deck is an educator-founded company on a mission to help teachers create powerful learning moments for every student, every day. With award-winning instructional tools that integrate seamlessly with Google and Microsoft classroom technology, Pear Deck's student engagement platform is used by schools across the globe to foster connections with learners of every age and ability. Schools and districts that implement Pear Deck report more equitable student engagement, improved student achievement, and a more positive school culture. Availability of the offer : Only WTC and WEG
Known Issues & Troubleshooting
Firmware Update for 7500K color temperature (resolves yellow screen issue)
On the 26th January 2021 we released a Wacom One firmware update (version 1.0.5.0) through the Wacom Desktop Center together with driver version 6.3.42.
These two updates will help us address a request that some of our Wacom One / Android users have been asking for. The user complains that whenever they use an Android device connected with our Wacom One, the display looked yellow. These updates allow users to adjust the color temperature of the Wacom One to a new cooler 7500K color temperature and with a brightness increase the Wacom One display will more closely match the Android device.
The option will be available to , macOS, and Android OS users.
What do existing Wacom One customers need to know?
For those customers that already own a Wacom One and want the option of using 7500K, they must connect to a Mac or Windows device first. Wacom One F/W can only be updated from within the Wacom Desktop center.
Customers connected to WDC will see that the new Wacom driver v.6.3.42 is available. Following Standard driver update process, follow the prompts, install the new driver and restart as requested.
Once the Driver is installed, return to the WDC and choose the My Device section and look for updates. Version 1.0.5.0 should be available. Follow the standard F/W update process and follow the prompts as usual. As always, during a F/W update it is important to never shut off the power or let the computer go into sleep mode.
When all updates are complete the customer can open the Display settings within the WDC and change the color temp and brightness to closely match the display color on most Android devices.
What do new Wacom One customers need to know?
Once new Wacom One displays start shipping with v1.0.5.0 F/W (Estimated to be March 2021) from the factory, Android customers have a choice how they can set the 7500K color temp as default.
Android option:

If Android users choose not to connect to a Mac or Windows device there is a work around that will allow them to set the color temp default to 7500K. Simply hold the power button of the Wacom One for 6 seconds during power on process and the F/W will recognize the action and set color temp default to 7500K. As long as the Wacom one is only connected to an Android device the 7500K color temp will stay in place. As soon as the Wacom One is connected to a Mac or Windows device for the first time the color temp will default back to 6500K. This workaround using the power switch works only in one direction, so if a user wants to choose a different color temp it must be done in the .

Standard option:

The standard method is to connect to a Mac or Windows device in the normal manner and adjust the color temp from the
FAQs
[ How can I adjust the color temperature of Wacom One (DTC133)?]
Adobe offer cannot be redeemed - cx gets "Not a valid partner code" or similar errors
---
Wacom One Broken Nib

CAS-1692989-Z8H2S5
Hi everyone we are facing an issue where the Wacom One pen's nib breaks off inside the pen body.
Issue
The tip of the nib breaks off, leaving the "stem" inside the pen body. The stem cannot be removed or the nib replaced.
You can see the issue on the following image: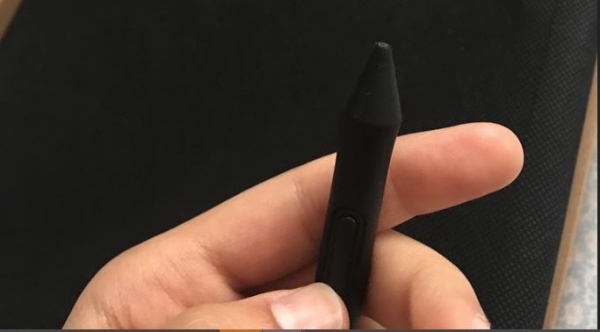 Case handling
Add the parent case: CAS-1692989-Z8H2S5
Use Product: Wacom One Pen (CP91300B2Z)
Followed your regional Warranty process to replace the pen.
---
"Watermarks"/"scratches" under the glass

CAS-1643565-K3P1F2
Issue: There have been some reports of "watermarks", "smudges", or scratches beneath the glass of the Wacom Cintiq 16 (), Wacom Cintiq 22 (), and the Wacom One () and the 16" ().
the repair teams have confirmed this upon inspection of some devices.
Users may report that it looks like there is dirt on the device but it cannot be wiped off as it is beneath the glass.
Visible both when the display is off and turned on.
Example Images:
This Cintiq 16 was not cleaned for the photo, see the white dust on the surface.
This Cintiq 16 also had a few specks of dust under the glass (not visible here).
Handling
Ensure the screen has been carefully cleaned
Get clear photos
Escalate if it does not closely match the photos above
Wacom QA have suspended all shipping of these products (DTK1660, DTK1660E, DTK2260 and DTC133) due to this issue.
Please inform your customer that there will be some delay delivering the replacement, so they should continue using the defective device for the time being. We do not have an ETA at the moment but we will let them know once stock is available and ready to ship.
Be sure you select the cause code

LPRB | LCD Problem - Other

on the RMA.
Attach to

CAS-1643565-K3P1F2

Note: the DTK1660K0B has been set as out of stock on the eStore and also removed from the Casawacom promotion for the moment.
Handling customers
So far this issue has only appeared on products within the DoA period. Run for WEG: ZTAX allowed products. The RMA will be set "Pending" until we have stock again.
If you need to RMA an older device with a different issue, run troubleshooting and escalate the case before discussing RMA options with the customer. Handling may depend on what needs to be replaced, so a repair could be delayed and if it's working at all it may be best to keep it until we are sure we can fix it.
eStore orders: some orders for Wacom Cintiq 16 went through and will be delayed. You will be asked to create a case and contact the customer. Base your email on the template below:

Template EN
Thank you for ordering a Wacom Cintiq 16 DTK1660K0B from our eStore.
We are sorry to have to let you know that we are experiencing some shipping issues with this model, so we will not be able to send it to you this week as you were expecting.
We are working on the problem and hope to have it resolved in the next few days, in which case you should receive your new display next week. As soon as it is ready and UPS collects it from our warehouse, you will receive a tracking number so you can see when it will arrive. If you have a UPS MyChoice account, you will be able to change the delivery options.
If we experience any further difficulties or have any updates from our side, we will be in touch again.
If you have any comments or questions, please do not hesitate to let me know. We are very sorry for the inconvenience and are doing our best to make sure that you will be able to work on your Wacom Cintiq as soon as possible.

Template DE
please submit your translation to L2!

Template ES
please submit your translation to L2!

Template FR
please submit your translation to L2!

Template IT
please submit your translation to L2!

Template NL
please submit your translation to L2!
---
Why are there marks on the surface of my pen display after drawing?
Using a standard nib on a Wacom Pen Display will not scratch the surface.
Note
However, some nibs may leave what look like scratches but are actually just marks from nib wear.
To clean them off, use a microfiber cleaning cloth.
If that is not sufficient, use an isopropyl alcohol solution with less than 75% alcohol. Do not use other cleaning fluids, which could damage the surface.
---
Wacom One X-Cable connector and socket
The Wacom One connector looks like a USB-C plug. But is NOT USB-C and uses a different proprietary connector / socket.
Customers cannot use USB-C cables to connect the device to a computer etc, only the X-shaped cable.
It can only be plugged into the Wacom One in one direction (with cable facing left)
Possible issues:
May be possible to damage the connector and / or socket if a customer tries to plug the cable in the wrong way (cable to the right side), or tries to use a 3rd party USB-C cable

Some have had many customers complain about the setup of the Wacom One.
It seems that the most common issues are that the plug in the Wacom One (that looks like a "USB-C" plug) is connected backwards, or that the bigger "power" USB plug is connected to the computer instead of the power adapter.
A parent case has been created so that we can track the severity of the issue.
Handling
Assist the customer to get it connected properly.

The template below should help

Connect to Parent Case CAS-1598970-M6G5G5
Description of Problem must include:

connecting to a laptop, a desktop, or an Android device?
Wacom One end of cable connected backwards (the cable runs across the top of the Wacom One)

and / or

Big power & small data USB plugs connected the wrong way round

Template EN
Ensure that when you plug the Wacom X-Cable to your Wacom One, the cable extends to the left of the device and not across the top.
The larger, cube-shaped USB-A plug has to be plugged into the power adapter. Your Wacom One will not work if this is connected to your computer.
The smaller, normal-sized USB-A plug should be plugged directly into your computer wherever possible. Plug it into the back of a desktop PC, and avoid using USB hubs, docks, monitor ports etc.
You can see clearly how it should all be connected in this video: https://www.youtube.com/watch?v=9BY21kdNP8o

Template DE
Wenn du das Wacom X-Cable an deinem Wacom One anschließen, achte darauf, dass das Kabel links vom Gerät verläuft und nicht über die Oberseite.
Der größere, würfelförmige USB-A-Stecker muss in das Netzteil gesteckt werden. Dein Wacom One funktioniert nicht, wenn dieser Stecker an Ihren Computer angeschlossen ist.
Der kleinere, normalgroße USB-A-Stecker sollte nach Möglichkeit direkt an deinem Computer angeschlossen werden. Schließe ihn an der Rückseite deines Desktop-PCs an und vermeide die Verwendung von USB-Hubs, Docks, Monitoranschlüssen usw.
In diesem Video kannst du deutlich sehen, wie alles angeschlossen werden sollte: https://www.youtube.com/watch?v=9BY21kdNP8o

Template ES
please submit your translation to your supervisor so it can be uploaded!

Template FR
please submit your translation to your supervisor so it can be uploaded!

Template IT
please submit your translation to your supervisor so it can be uploaded!

Template NL
please submit your translation to your supervisor so it can be uploaded!

Template RU
please submit your translation to your supervisor so it can be uploaded!
---
Can I power the Wacom One via USB 3.0 ports on my computer
The following verbiage should be used when a customer asks this question: "While it may be technically possible to use a USB port to power the Wacom One, the Wacom One was not designed to be powered from your computer's USB ports and such use may result in damage to your PC or the Wacom One itself. The Wacom One was designed to be powered exclusively by plugging the Wacom One into a standard wall (AC) outlet, using the Wacom-supplied power adapter that accompanies the Wacom One. Thus, the use of a USB port setup, while technically possible, is neither recommended nor supported by Wacom, and any defects or damage to the Wacom One as a result of such use are not covered by Wacom's limited warranty. If you use a USB port to power the Wacom One, you do so at your own risk and acknowledge and agree that: (i) such use may cause damage to your PC and/or your Wacom One; and (ii) Wacom will have no liability or responsibility to you in connection with any such use, including any resulting damage that may occur as a result of such use. If you need to purchase a new or replacement Wacom-supplied power adapter to power your Wacom One, please visit our eStore and search for ACK44514."
---
Wacom One Pen & Other Compatible Pen Issues
Wacom One Pen
Can leave marks on the screen due to soft nibs
Marks wipe off easily with an appropriate screen cloth
Lamy AL-Star EMR
Nibs are similar to the original Wacom One Pen nibs (ACK24501Z), but are made of a softer material
This can lead to marks on the screen
Marks wipe off easily with an appropriate screen cloth
Staedtler Norisdigital
Wacom One nibs will fit in this device, but look different
This will alter the "pencil shape" of the original, but have no other effect on performance
STAEDTLER Noris digital jumbo
Similar to the Staedler Norisdigital, this version add an eraser [1]
---
Android Compatibility
The Wacom One Pen Display can be used with a compatible Android device (see list below)
Connection of the Android device to the Wacom One is simple, but will require an adapter (sold separately):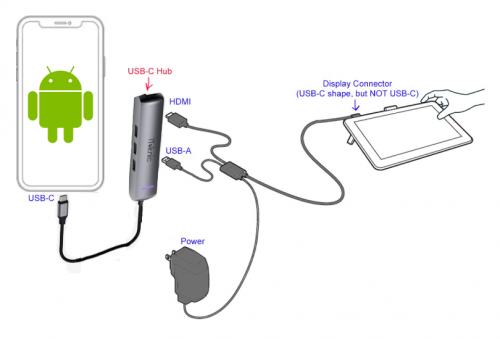 It is important to note: Android generally uses touch based input so a lot of apps will use standard pinch or spread with 2 fingers to zoom in or out.
The Wacom One is a non-touch pen display, however as a workaround customers can use the phones Dex mode which has an option to turn the Android phone into a touch pad. This will allows the user to zoom, rotate and pick as normal.
Video WacomOne Android Device Connection
Compatibility
See: https://www.wacom.com/comp
Android Devices
The list below shows devices Wacom has tested and confirmed to work. Other devices with "USB Host mode" may also work, but we cannot confirm if they will or not.
Huawei, Honor Note 10 **
Huawei, Honor 30 Pro **
Huawei, Honor V20 **
Huawei, Mate 10 Pro ** / ***
Huawei, Mate 20 Pro **
Huawei, Mate 30 Pro **
Huawei Mate Xs **
Huawei, P20 Pro **
Huawei, P30 **
Huawei P40 **
Samsung, Galaxy Note 20 * / ***
Samsung, Galaxy Note 10 *
Samsung, Galaxy Note 10+ *
Samsung, Galaxy Note 8 *
Samsung, Galaxy Note 9 *
Samsung, Galaxy S10+ *
Samsung Galaxy S20 * / ***
Samsung, Galaxy S20+ * / ***
Samsung, Galaxy Tab S6 * / ***
Samsung, Galaxy Tab S7 */ ***
Samsung, Galaxy S8 *
* Force full screen required for some applications
**Select "large" display scale for best pen mapping
*** Adobe Rush not Supported
Android Adapters
ARKTEK, atk-ctominidp-2-au
Baseus, CAHUB-AT01
Huawei, MateDock
Huawei, MateDock 2
iTeknic, IK-UC002
Samsung, DeX Pad/ EE-M5100
Samsung, DeX Station/ EE-MG950
Sanwa supply, AD-ALCMHD01
Ugreen, 70411
Android Apps
ibisPaint
MediBang paint
Bamboo Paper
Adobe Sketch
Infinite Painter
Concepts
Autodesk SketchBook
Adobe Premiere Rush
Jump Paint by Medibang
Support Information - Android FAQ
Will Autodesk Sketchbook work with the Wacom One on my Samsung device?
Autodesk Sketchbook (version 5.1.5) currently displays an error "Autodesk SketchBook can't run in Samsung DeX, it's designed for touch screens". Autodesk has confirmed they are working on a fix for this issue.
Does my Android device work with Adobe Premiere Rush?
Adobe Premiere Rush has a limited list of devices that are supported, but the following Android devices running Android 9.0 (Pie or P) or above have been confirmed with Wacom One:
Samsung: Galaxy S10 / 10+ or 10e Galaxy S9 / S9+ Galaxy S8 / S8+ Galaxy A50 / A70 Galaxy Note 10 / 10+ Galaxy Note 9 Galaxy Note 8
How do I obtain the 2 month licence for Adobe Premiere Rush included with my Wacom One?
Simply register your Wacom One device:
Download and install the Wacom Driver from https://www.wacom.com/drivers
After the driver is installed it will ask you to restart your computer
Once your computer restarts the Wacom Desktop Center will open
At the top of the Wacom Desktop Center screen click on "Register your device"
You will be taken to the Wacom Account web page:
If you already have a Wacom ID you can enter the email address and password for it to sign in
If you don't have a Wacom ID you can create one by completing the details on the right side of the Wacom Account page
Once you login to your Wacom ID you will receive a message: "Congratulations! You have registered Wacom One"
You can then click the "View Software Library" button, select the operating system you will use the software on and then your software library will open
You will then see Adobe Premier Rush along with its Licence Key
Why is there a delay when I draw in Concepts (ver. 1.7.3) using my Samsung Note 9?
If you notice a delay when using Concepts (ver. 1.7.3) on your Samsung Note 9 go to settings within the Concepts application and disable "Enable low-latency mode" and then restart Concepts
Why can't I get full screen mode when using Bamboo Paper or MediaBang Paint?
To enable full screen mode:
Attach your Wacom One Display to your Samsung device
When prompted choose to enter DeX mode and your Wacom One Display will change from mirrored mode to an extended desktop.
You will see the DeX logo in the lower left corner of your Wacom One Display screen.
Choose the DeX Labs icon in the upper right of the small open window and the Samsung DeX labs window will open
Find the "Force apps to resize" button and activate it once so it is in the ON position.
How do I add the Bamboo Paper Pro Pack to my Android device?
Bamboo Paper (ver. 1.11.1+) will recognize the Wacom One when plugged to a supported Android device. The customer will see a screen with a congratulations message and the Pro Pack will be automatically available.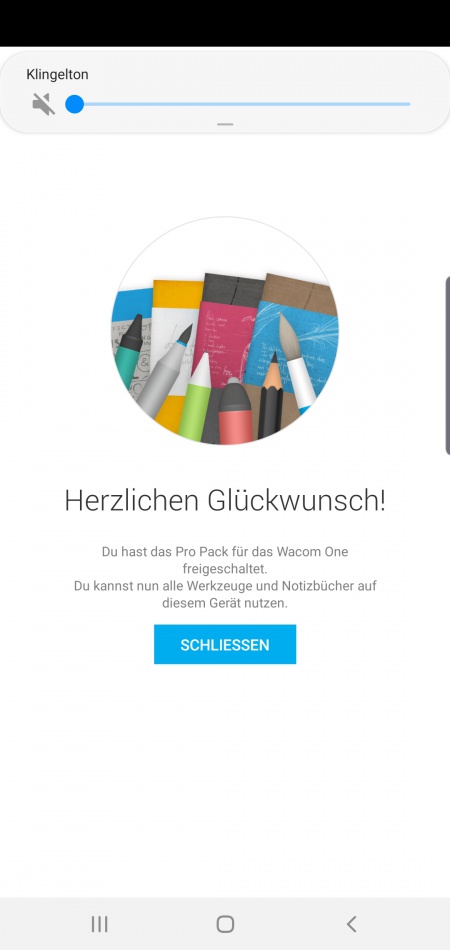 Why am I not receiving tilt with my Wacom One Pen on my Samsung device?
Samsung Galaxy devices which are running a version of Linux lower than 4.10 (e.g: Galaxy Note 8 & Galaxy Note 9) will not receive tilt values when using the Pen.
Sales Details
Pricing
WTC:$

Higher cost due to China-US Tariffs

Global: $
Related Links